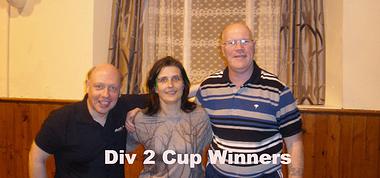 Paul, Stephanie, and Garth from the winning team – Arklow 2
---
Hello Alois,
Greetings from Ireland. I would like to thank you for the pleasure I have received from your site over the last year, and particularly commend you for your work on the forum. Everyday I look forward to the latest words of wisdom or video answer, a truly brilliant service.
As for my improvement, well it has mainly been on the mental side, particularly on analysing weakness. After not playing since school thirty years ago, your site gave me the tools to identify my areas of weakness and how to rectify them. I particularly remember you recommending learning a new stroke, the correct stroke, rather than trying to unlearn your own bad habits. This is a great psychological twist and makes the learning fun rather than frustrating.
The other key thing I learned was the value of studying your opponent and finding their weakness. For the last three months I have been playing in a multi-club team league and the thought process from the vault was paramount in my mind. After 24 singles matches, I ended the season unbeaten and player of the year, with the team winning league and cup. Now it may only be the second division and not a very high standard, but it is so rewarding to see how you can boost your confidence by understanding your own game and what you are trying to achieve against each opponent.
On the technical side, I found your approach to practice so enlightening. The repetition and use of slight variation I found particularly valuable. This especially benefited my service, which I practiced considerably with reference to spin, speed and placement.
In closing, I would like to especially thank you for your dedication and enthusiasm for your students. At all times I felt I was part of a community and look forward to being a "Pingskiller" for many more years.
Best Regards
Paul, Ireland