Here is a great story from two of our PingSkillers. Thought we would share it with you all. Made us feel
...
...
Alois and Jeff,
I am loving these video lessons! We have gotten coaching before but I am convinced this is going to be the BEST!
My husband Jarol and I met in college 59 years ago at a ping pong table that was only set up on weekends. After we were married, when we had a home that had room for a ping pong table, we had one that Jarol made from plywood and painted it himself . His air force and then pastoral service, caused us to move around the country a lot, so it didn't always allow for a table. We figured out that we had gone 25 years without playing at all.
When my doctor told me I had to get more exercise, we tried many options. I finally said, "We hate all these things, they are so boring. We used to like ping pong, why don't we do that again?" That was almost 10 years ago.
We discovered that there was a table tennis club at the University of Iowa, in Iowa City, where we live. We started going there. We learned that all the rules had changed and the strokes looked different than the way we were playing.
One of the guys said, "You will never get better if you don't go to tournaments." My husband said, "I am NOT going to any tournaments." I said, "I AM!" Three months later we were at our first tournament. That summer we went to a Dan Seemiller training camp. This past summer we participated in 6 tournaments, 2 of which were national tournaments. My goal for taking this 52 week training is to get our ratings up high enough to move out of the beginners level at the tournaments that we compete in.
We are 78 and 77. When we first started going to the club at the University most of the guys were willing to help us in our effort to improve. Then it got so we would go to club, play each other for 20 minutes, sit out for 20 minutes and play each other again and go home. We decided if we were just going there to play each other, we should find a house where we could play at home. We looked at many houses and couldn't find anything suitable, so we decided to build. Nine years ago we moved into our new home. We have 2 tables in our basement and every Wednesday evening we have anywhere from 6 to 12 people come to play and have fun. Some come early, some stay LATE, but when they overlap we play doubles! Being a university town we have lots of international students, so many of the people who come to our home are from countries where table tennis is more popular than it is in the US. I just stopped to count who came this past Wednesday 6 U of I students (4 Chinese, 2 Iowans) 6 adults from the community (3 Chinese and 3 Iowans) The other break down (4 females, 3 Chinese, and me). We have had people from Japan, Korea, India, Poland, Germany, Russia, San Salvador, Brazil, Spain, Nigeria, Iran and Congo.
In addition, we volunteer at high level tournaments. We have worked at the US Open, USA & North American Olympic Trials and the NCTTA National Championships.
We are loving the life that table tennis has opened up to us. We want to keep improving. Your training is going to help us. I think it has already. We go to a club on Saturday mornings in Cedar Rapids, Iowa. Last Saturday I won a match 3 - 0 from a man that used to beat me every week! Many Saturdays I am the only female there.
Thanks for your help,
Leah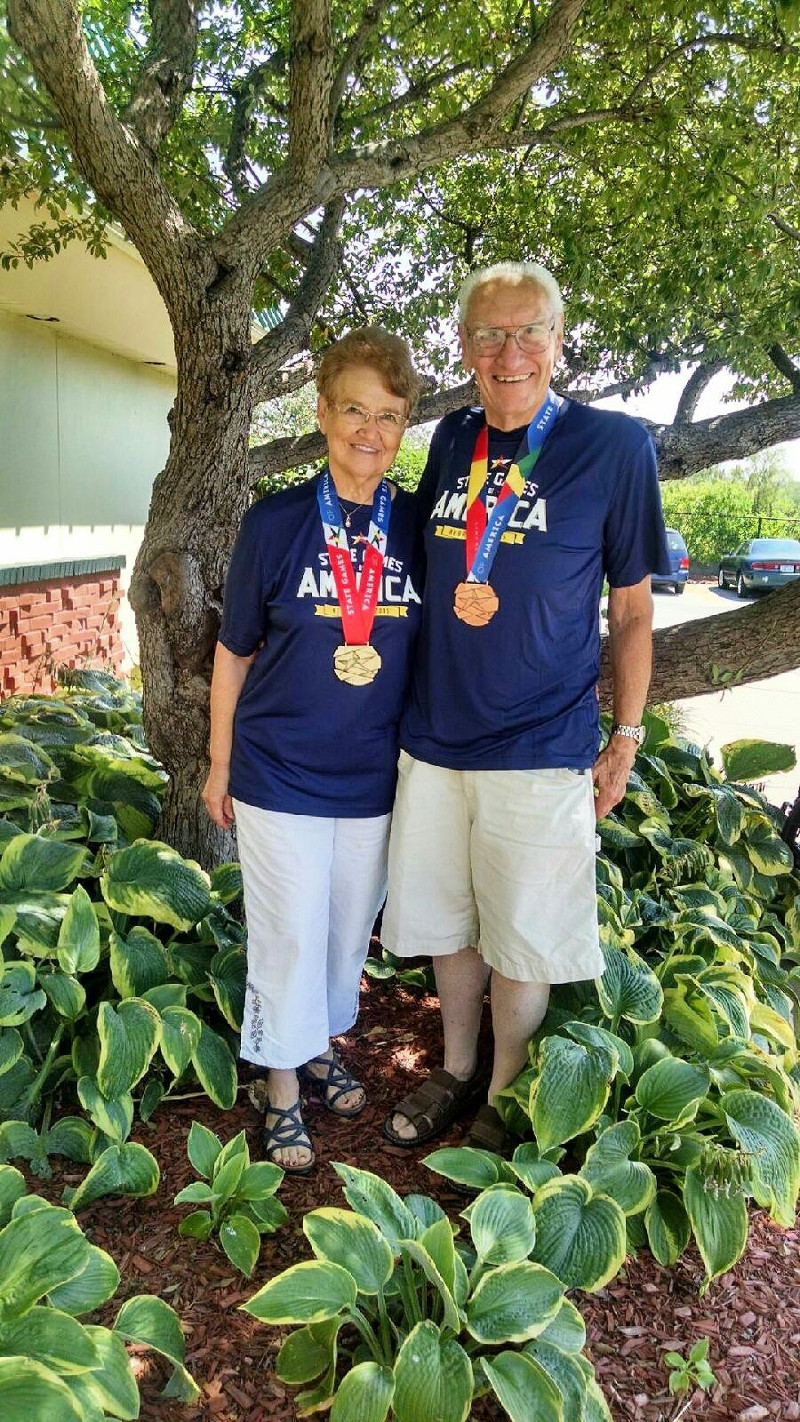 The picture of Jarol and me was taken after the National State Games tournament held last summer, in Lincoln, NE. I got gold in the novice class and Jarol got bronze in the D division.
---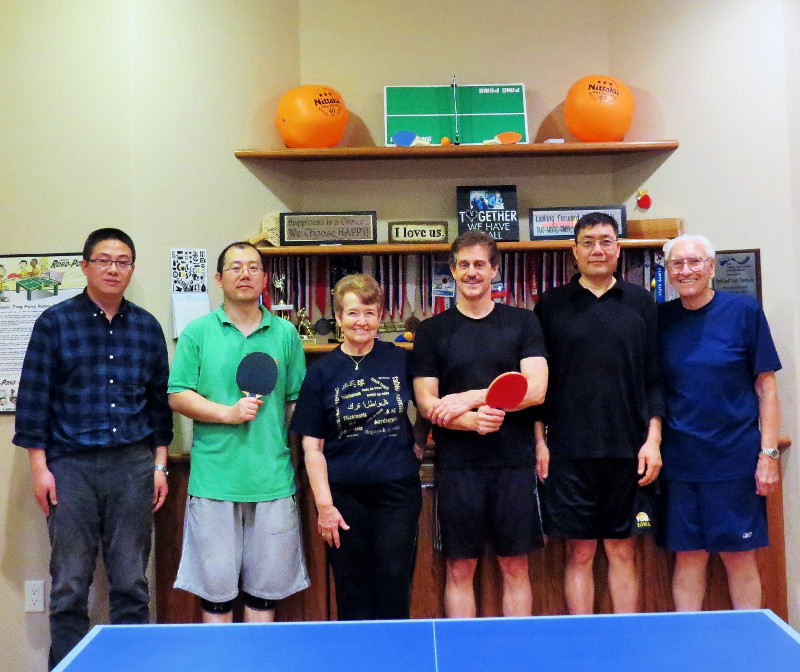 A group of table tennis players who came to our house last night.
---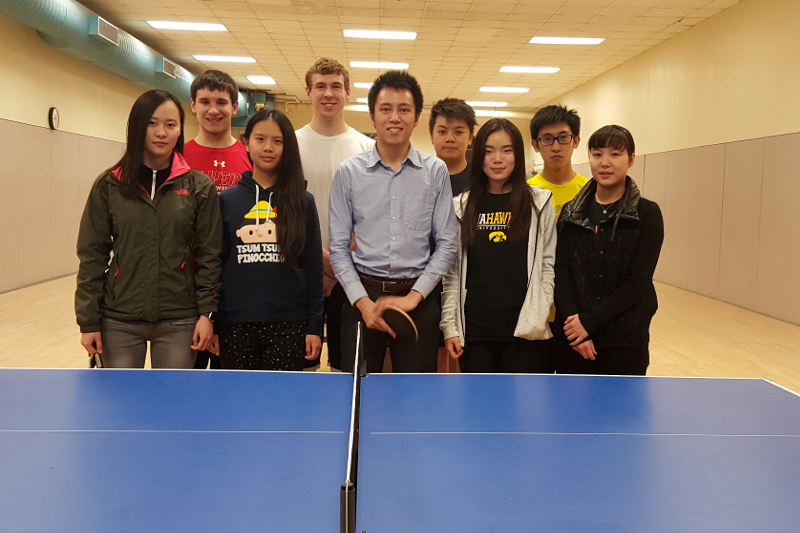 U Iowa team they usually play at our house on Wednesdays
---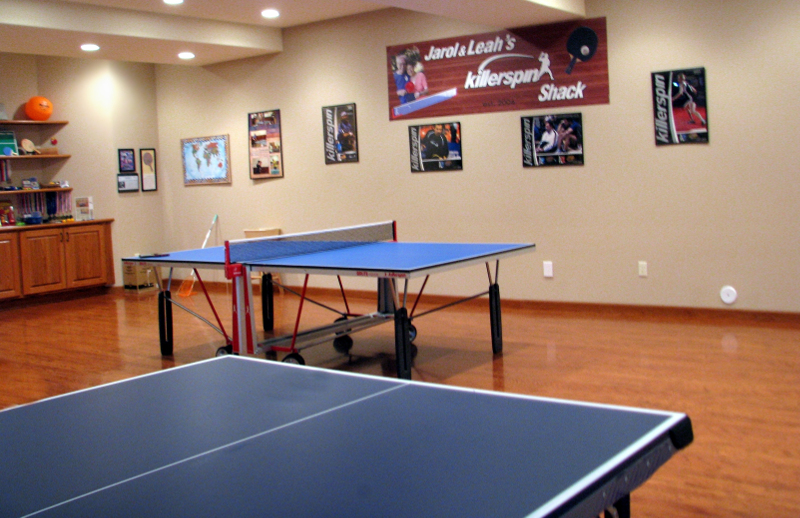 A picture of our table tennis room. Our daughter had the banner made one summer when we were on vacation