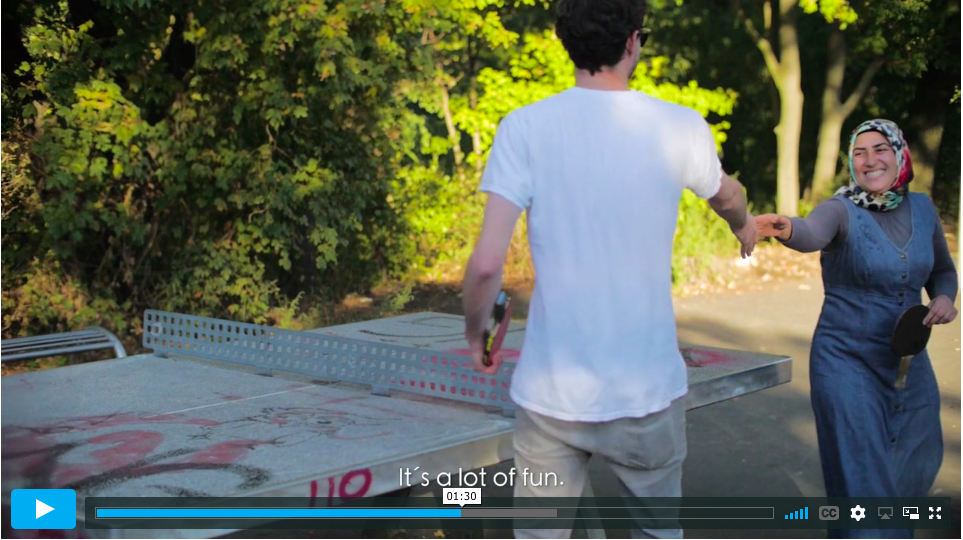 Here is an interesting email from one of our readers, Steven.
This looks like a great initiative to make Table Tennis accessible to the general public and see how the game can help people in so many ways. Take a look at the video link.
"Thepingpongproject.com".  This is a short film about Berlin ping pong and urban ping pong in general made by my son Kaleb who works as a film maker in Berlin.  The important point is not so much the game but the potential it has to organize a diverse community around healthy issues like sport rather than divisive ones like politics.  
Another example of this occurred a few years ago in Japan.  My oldest son Seth was working as an English teacher in a Japanese high school.  Every day at lunch, he would be served a bento along with the rest of the staff.  They would then head for the ping pong room for 30 minutes where people would pair up randomly and play doubles to five points, loser moving on to allow another team to play.  This was a great way to keep the teaching staff talking and having fun together, a great morale booster for all.
"Ping pong map.net" is a short description of the over 1500 outdoor ping pong tables in the parks of Berlin.  
Our outdoor ping pong project in Ames, Iowa is currently slogging through the bureaucracy for approval, although we already have a donor for the two tables.  There may not be much more to report until spring.  I'll keep you posted.
....Steven
We look forward to hearing more from Steven about how his own project that he is trying to get up and going in Ames, Iowa works out.  It is a great idea and would be great to see the movement spread around the world.  Maybe we as PingSkillers can help it in some way.