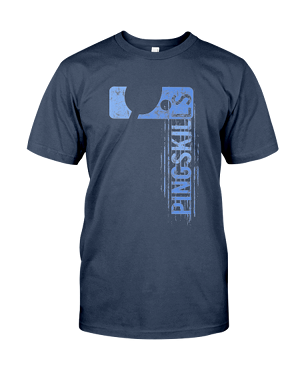 An amusing letter from PingSkiller Alan Hewlett on receipt of his PingSkills T-shirt
Hi Alois,
Once the plane arrived at Heathrow all the handling staff stood in rows and cheered long and loudly as my shirt sped its way through customs to the waiting crowds outside the Terminal. They were clapping and singing in good voice to Waltzing Matilda accompanied by the Brighouse and Rastrick brass band.
The shirt was passed to the Royal Mail and then made its way along the villages, towns, and cities of England travelling North within a police escort of outriders making sure none of the excited throngs got too near the precious cargo contained within the Royal Mail van
As it neared Peterborough the van slowed and the local people were able to shout and clap and throw bouquets of flowers, some photographers even tried to get a photo of the shirt as it stopped at the overnight depot. During the night the security staff were called in and paid overtime to maintain a careful eye on the package to ensure no baddies were allowed in.
When morning arrived the special package left the depot in an unmarked van, this van turned right whilst the decoys turned left, clever eh! This ruse fooled the waiting people.
The T-shirt finally arrived at its destination and was gently carried to my front door. I had gathered all my family and friends together, there were balloons, bunting, and music provided by the Dagenham Girl Pipers in all there finery to play the shirt into my home. Oh what a joyous day that was. The shirt was a perfect fit made by fair  hands in Haiti, and it is to these dedicated people, all you staff, and Jeff and of course yourself that I extend my undying gratitude.
The perilous journey of the Pingskills T-shirt will stay in my memory forever!
 P.S.   The following day I boarded an open topped bus and travelled through the City of Peterborough with a tickertape celebration whilst of course wearing your famous shirt
 P.P.S Lets hope it doesn't shrink in the wash
Alan Hewlett
Thanks Alan... it brightened my day...